Located right on the Seneca Lake Wine Trail, among the beautiful waterfalls, rolling hills, and breathtaking views of Schulyer County, sits Painted Bar Stables. A local equine landmark in the 60s and 70s, this barn holds its own historic charm. And with all the beautiful horses that call this place home, it's an attraction for horse riders of all ages.
Erika Eckstrom, the owner of Painted Bar Stables, purchased the 1851 farm house in 2008. Since she was a little girl, Erika loved horses. She spent much of her childhood at various barns in the Ithaca area, working hard so she could learn to ride the horses she loved so much. At age 13, she bought her first horse, Margarita, with the money she had been saving since she was little.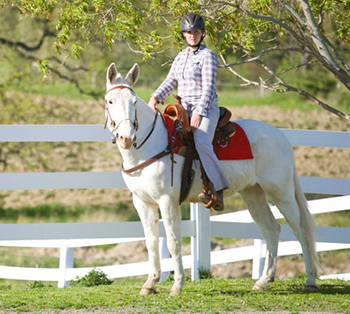 Erika spent her teenage years rescuing horses and training them as trail horses. She learned the importance of trust, confidence, and patience – characteristics that are instilled in her today, as she continues her work with horses.
Since purchasing Painted Bar Stables, Erika has worked to repair and renovate the stables and barn house. She has bred and trained a friendly, beautiful, and skilled herd of horses that love riding the trails of Schulyer County. Through her hard work and dedication, she earned the Young Entrepreneur of the Year Award in 2014 for the Syracuse, NY district.
Standing true to her philosophy to "create a setting in which both people and horses are happy," Erika has successfully created an educational, friendly environment that offers unmatched love and care to both the horses and the visitors.
At Painted Bar Stables, visitors experience the beauty of Finger Lakes from horseback. There's many different rides that offer unique ways to see the nature surrounding the stables. Visitors can do shorter rides around the farm house, longer adventures in Finger Lakes National Forest, or even under the stars on the moonlight trail rides.
The horses at Painted Bar Stables are a tight-knit family, each horse a special addition to the herd. There's over 35 horses at the barn, including retired racehorses like Elegant Jetsetter and rescues like Brienne of Tarth and Spock.
Spock, a white Appaloosa Mule with pointy ears, is a favorite at Painted Bar. (Photo above)  When Spock first came to the barn, he was impossible to handle and didn't trust anyone. After working with Erika, Spock is now a barn favorite and an awesome trail "horse." He's intelligent and stubborn, but very sweet and protective of himself and his rider – making him great on the trail.
Visitors who get the chance to come to Painted Bar Stables make unforgettable memories and have a great time. Rachael from New Jersey, who visited Painted Bar for a trail ride while on vacation with friends, said: "I had a wonderful time riding with Erika at Painted Bar. She put me on Spock who was a perfect gentleman throughout the ride. It was clear from chatting with Erika, that rescue animals like him are an important part of her operation. I would definitely go again and recommend this farm to friends…in fact – I already have!"
To learn more about visiting Painted Bar Stables, visit their website below:
Painted Bar Stables
Burdett, NY
http://www.paintedbarstables.com/
ride@paintedbarstables.com